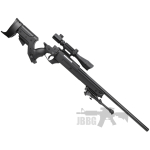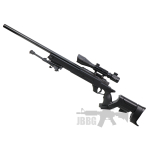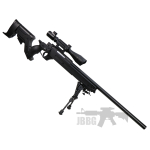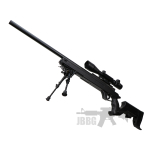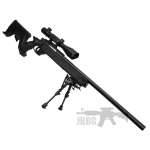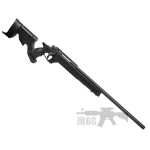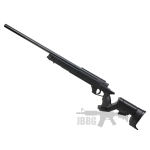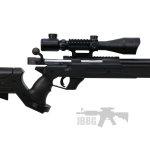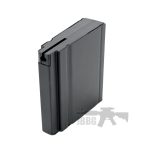 Well MB04A Airsoft Sniper Rifle
€164.99
The MB04A is an awesome bolt action airsoft sniper rifle that offers amazing performance for a great value.
Please note, the bipod, scope, and mounts are not included with this rifle.
CUSTOMERS WHO BOUGHT THIS ITEM ALSO BOUGHT: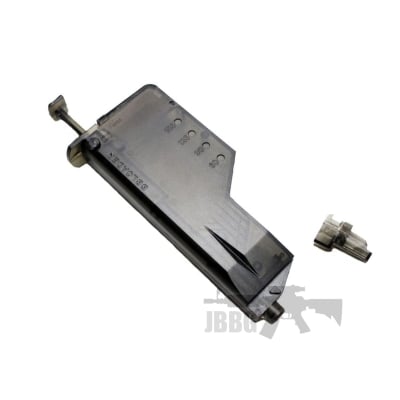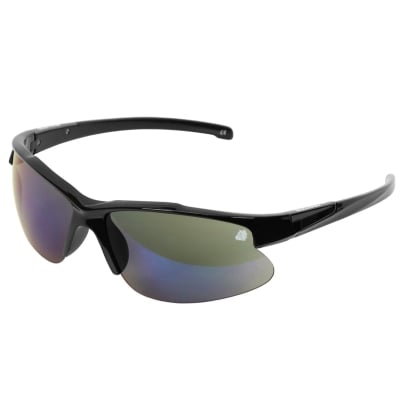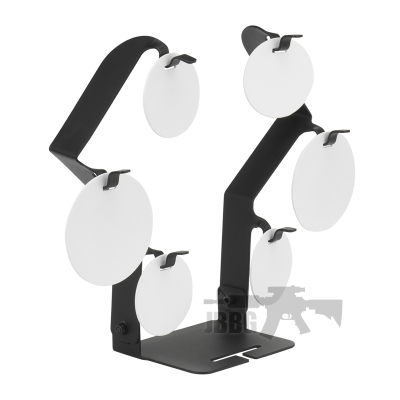 Description
Additional information
Reviews (0)
DELIVERY COSTS
Description













MB04A SNIPER RIFLE
This MB04A Bolt Action Airsoft sniper rifle is a great rifle from WELL. Also known as the MB04, this sniper is packed with features and performance right out of the box. This outstanding WELL APS possesses not only a future rifle that has an ergonomic modified look but the ability to accept a ton of external and internal upgrades. This WELL MB04A is a replica of the G22 Magnum, A British precision sniper that has seen time in both the Iraq and Afghanistan wars, this variant of the rifle comes with the "cut" stock, but has an adjustable rear section clamped onto the bottom of the pistol grip. This makes the rifle incredibly comfortable to shoot, and also gives you a little extra stability when shooting lying down – as the unique stock fits very nicely into the shooter's shoulder – it also includes a cheek rest to increase comfort levels when aiming down the sights for a long period of time. The MB04A is a single-fire bolt action sniper capable of hitting targets at ranges of around 200-250 Ft, making it ideal for use in a skirmish as a long-range sniper – something that you would take cover with on a raised vantage point behind where the actual firefight would take place, this rifle has the power needed to ensure the BB's would still be travelling fast enough to confirm a hit at the longer ranges as appose to just floating and getting caught by the wind.
The body and general build of this rifle are amazing – the actual main body of the weapon feels as solid as a brick, and the stock actually fits onto the pistol grip very nicely and does not feel like it is going to come to lose any time soon, The entire upper assembly is metal – along with the trigger assembly meaning you can be sure of a nice crisp trigger pull and quick response every shot. The bolt comes pre-lubricated meaning it will not "stick" or have any unwanted resistance when shooting out of the box, as is this such a long rifle it has an incredibly long inner barrel – as this is a tight bore, with a hardened hop-up rubber the weapon can make some incredibly accurate shots when used with a heavier "sniper grade" ammo. Shooting out of the box at 440 FPS on 0.20's this rifle is already at the limit for most skirmish sites, meaning there is no need to upgrade the spring or barrel. However, we would recommend using at least 0.30g BB's with this weapon to ensure you get the best performance possible out of it, as lighter pellets will not take to the hardened Hop-Up so well and will end up rising up far too much to be able to take a decent shot.
Upgraded new metal trigger and firing system, making this Airsoft sniper one of the most robust and relabel guns on the market at this time. Full metal barrel, bolt and accessory rail, making this airsoft sniper rifle very accurate and reliable. Complete with quality, magazine and speed loader to enable reloading quickly when you need.
IN THE BOX
MB04A Sniper Rifle
30rnd Magazine
BB Speed Loader
Carrying Strap
Bag of Tools
SPECIFICATIONS
| | |
| --- | --- |
| NAME | MB4410A |
| TYPE | RIFLE |
| SKU | MB4411ABK |
| MAKE | WELL |
| FPS (ESTIMATED) | 300 |
| POWER TYPE | SPRING (BOLT) |
| ROUNDS | 30 |
| HOP-UP | ADJUSTABLE |
| CONSTRUCTION | ABS & METAL |
| 1:1 SCALE | YES |
| WITH CASE | NO |
| WITH MAGAZINE | YES |
| WITH ACCESSORIES | YES |
| RAIL UNIT | YES |
| RECOMMENDED AMMO | 0.20G + |
| SCOPE | NO |
| SCOPE MOUNTS | NO |
| BIPOD | NO |
| LENGTH | 89CM |
| WEIGHT | 4.5KG |
FEATURES
30 Round Mag
Crisp Bolt Pull
300 FPS with 0.20g
Solid Polymer Body
Unique Comfort Grip
Adjustable Hop-Up
UPGRADED PARTS
New metal trigger and firing system, making this Airsoft sniper one of the most robust guns on the market at this time.
New full metal barrel and bolt.
New high-quality magazine with speed loader to enable reloading quickly when you need it.
| | | | | |
| --- | --- | --- | --- | --- |
| COUNTRY | ZONE | DELIVERY TYPE | TIME | PRICE |
| Republic of Ireland | 0 | Standard Delivery | 1-2 Working Days | €6.00 |
| | 0 | Free Delivery | 3-4 Working Days | Orders Over €100 |
| | 0 | Buy and Collect | 30 Min After Ordering | €0.00 |
| Northern Ireland | 1 | Standard Delivery | 1-2 Working Days | €7.00 |
| UK Mainland | 1 | Priority Delivery | 3-4 Working Days | €29.00 |
| Jersey | 1 | Standard Delivery | 4-5 Working Days | €29.00 |
| Guernsey | 1 | Standard Delivery | 4-5 Working Days | €29.00 |
| Belgium | 2 | Standard Delivery | 4-5 Working Days | €15.00 |
| Netherlands | 2 | Standard Delivery | 4-5 Working Days | €15.00 |
| France | 2 | Standard Delivery | 4-5 Working Days | €15.00 |
| Luxembourg | 2 | Standard Delivery | 4-5Working Days | €15.00 |
| Germany | 2 | Standard Delivery | 4-5 Working Days | €15.00 |
| Austria | 3 | Standard Delivery | 5-6 Working Days | €18.00 |
| Denmark | 3 | Standard Delivery | 5-6 Working Days | €18.00 |
| Switzerland | 3 | Standard Delivery | 5-6 Working Days | €18.00 |
| Czech Republic | 4 | Standard Delivery | 6-7 Working Days | €20.00 |
| Hungary | 4 | Standard Delivery | 6-7 Working Days | €20.00 |
| Italy | 4 | Standard Delivery | 6-7 Working Days | €20.00 |
| Poland | 4 | Standard Delivery | 6-7 Working Days | €20.00 |
| Sweden | 4 | Standard Delivery | 6-7 Working Days | €20.00 |
| Slovenia | 4 | Standard Delivery | 6-7 Working Days | €20.00 |
| Slovakia | 4 | Standard Delivery | 6-7 Working Days | €20.00 |
| Finland | 5 | Standard Delivery | 6-7 Working Days | €28.00 |
| Spain | 5 | Standard Delivery | 6-7 Working Days | €28.00 |
| Norway | 5 | Standard Delivery | 6-7 Working Days | €28.00 |
| Portugal | 5 | Standard Delivery | 6-7 Working Days | €28.00 |
| Bulgaria | 6 | Standard Delivery | 6-7 Working Days | €34.00 |
| Estonia | 6 | Standard Delivery | 6-7 Working Days | €34.00 |
| Lithuania | 6 | Standard Delivery | 6-7 Working Days | €34.00 |
| Latvia | 6 | Standard Delivery | 6-7 Working Days | €34.00 |
| Romania | 6 | Standard Delivery | 6-7 Working Days | €34.00 |
| Cyprus | 7 | Standard Delivery | 6-7 Working Days | €100.00 |
| Greece | 7 | Standard Delivery | 6-7 Working Days | €90.00 |
| Malta | 7 | Standard Delivery | 6-7 Working Days | €84.00 |
| Turkey | 7 | Standard Delivery | 6-7 Working Days | €92.00 |
| USA | 8 | Standard Delivery | 6-7 Working Days | €66.00 |