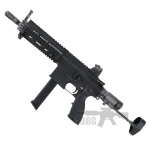 WE 888C PCC GBBR AIRSOFT RIFLE
€449.99
This is the WE 888C PCC GBBR Airsoft Rifle now at Just BB Guns IE.
EMAIL ME WHEN STOCK IS AVAILABLE
Description
Reviews (0)
DELIVERY COSTS
Description
WE 888C PCC GBBR AIRSOFT GUN
The M4A1 PCC (Pistol Caliber Carbine) is a throwback to an older version of the M4 when Colt experimented with a 9mm configuration, though at that time it employed Uzi magazines instead of the more ubiquitous Glock magazines. This particular version from WE is more in line with the current 9mm pistol calibre carbines which use Glock magazines.
Much like its real steel counterpart, this rifle uses G series magazines in which you will be able to take this same one and use it in your WE G series pistol. The gun is patterned after traditional ARs featuring similar control schemes and designed in WE's 888C style. The C refers to this being a compact rifle.
WE have managed to create this GBBR to have surprisingly strong recoil impulse and snappy cycling, though only using a pistol magazine. To add to this, there is a different buffer spring for you to experience an even faster cycling rate!
Its internals are the same as seen in many other WE M4 GBBRs and can easily be swapped out for upgrade parts or replacement parts if necessary. An important point to note is the lower receiver is moulded specifically to fit G series pistol magazines and WILL NOT fit M4 magazines.
SPECIFICATIONS
BRAND – WE
ORIGINATING – ARMORY H&K
MODEL – AR/M4 SERIES
FPS – 300 – 328 (TESTED)
POWER TYPE – GAS
ROUNDS – 50
HOP-UP – ADJUSTABLE
CONSTRUCTION – ULL METAL
1:1 SCALE – YES
RECOMMENDED AMMO – 0.20G
POWER SOURCE GREEN-GAS
SHOOTING MODE – SEMI / FULLY AUTO
WITH MAGAZINE – YES
BLOWBACK – YES
LENGTH – 670MM
WEIGHT – 3320G
IN THE BOX
WE 888C PCC GBBR Airsoft Gun
Magazine
User Manual
FPS TESTED
We have tested all of our stock of this gas airsoft rifle with Bulldog 0.20G BBs on 2 different chronographs and can confirm that they will all fire between 300 and 328 FPS.
| | |
| --- | --- |
| NAME | 888C PCC GBBR |
| TYPE | RIFLE |
| SKU | WERM006CBKPCCBK |
| MAKE | WE |
| ORIGINATING ARMORY | H&K |
| MODEL | AR/M4 SERIES |
| FPS (ESTIMATED) | 328 |
| POWER TYPE | GAS |
| ROUNDS | 50 |
| HOP-UP | ADJUSTABLE |
| CONSTRUCTION | FULL METAL |
| 1:1 SCALE | YES |
| RECOMMENDED AMMO | 0.20G |
| POWER SOURCE | GREEN GAS |
| SHOOTING MODE | SEMI / FULLY AUTO |
| WITH MAGAZINE | YES |
| BLOWBACK | YES |
| LENGTH | 670MM |
| WEIGHT | 3320G |
| | | | | |
| --- | --- | --- | --- | --- |
| COUNTRY | ZONE | DELIVERY TYPE | TIME | PRICE |
| Republic of Ireland | 0 | Standard Delivery | 1-2 Working Days | €6.00 |
| | 0 | Free Delivery | 3-4 Working Days | Orders Over €100 |
| | 0 | Buy and Collect | 30 Min After Ordering | €0.00 |
| Northern Ireland | 1 | Standard Delivery | 1-2 Working Days | €7.00 |
| UK Mainland | 1 | Priority Delivery | 3-4 Working Days | €29.00 |
| Jersey | 1 | Standard Delivery | 4-5 Working Days | €29.00 |
| Guernsey | 1 | Standard Delivery | 4-5 Working Days | €29.00 |
| Belgium | 2 | Standard Delivery | 4-5 Working Days | €15.00 |
| Netherlands | 2 | Standard Delivery | 4-5 Working Days | €15.00 |
| France | 2 | Standard Delivery | 4-5 Working Days | €15.00 |
| Luxembourg | 2 | Standard Delivery | 4-5Working Days | €15.00 |
| Germany | 2 | Standard Delivery | 4-5 Working Days | €15.00 |
| Austria | 3 | Standard Delivery | 5-6 Working Days | €18.00 |
| Denmark | 3 | Standard Delivery | 5-6 Working Days | €18.00 |
| Switzerland | 3 | Standard Delivery | 5-6 Working Days | €18.00 |
| Czech Republic | 4 | Standard Delivery | 6-7 Working Days | €20.00 |
| Hungary | 4 | Standard Delivery | 6-7 Working Days | €20.00 |
| Italy | 4 | Standard Delivery | 6-7 Working Days | €20.00 |
| Poland | 4 | Standard Delivery | 6-7 Working Days | €20.00 |
| Sweden | 4 | Standard Delivery | 6-7 Working Days | €20.00 |
| Slovenia | 4 | Standard Delivery | 6-7 Working Days | €20.00 |
| Slovakia | 4 | Standard Delivery | 6-7 Working Days | €20.00 |
| Finland | 5 | Standard Delivery | 6-7 Working Days | €28.00 |
| Spain | 5 | Standard Delivery | 6-7 Working Days | €28.00 |
| Norway | 5 | Standard Delivery | 6-7 Working Days | €28.00 |
| Portugal | 5 | Standard Delivery | 6-7 Working Days | €28.00 |
| Bulgaria | 6 | Standard Delivery | 6-7 Working Days | €34.00 |
| Estonia | 6 | Standard Delivery | 6-7 Working Days | €34.00 |
| Lithuania | 6 | Standard Delivery | 6-7 Working Days | €34.00 |
| Latvia | 6 | Standard Delivery | 6-7 Working Days | €34.00 |
| Romania | 6 | Standard Delivery | 6-7 Working Days | €34.00 |
| Cyprus | 7 | Standard Delivery | 6-7 Working Days | €100.00 |
| Greece | 7 | Standard Delivery | 6-7 Working Days | €90.00 |
| Malta | 7 | Standard Delivery | 6-7 Working Days | €84.00 |
| Turkey | 7 | Standard Delivery | 6-7 Working Days | €92.00 |
| USA | 8 | Standard Delivery | 6-7 Working Days | €66.00 |