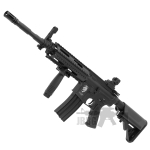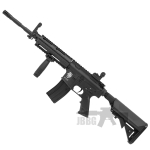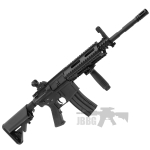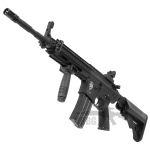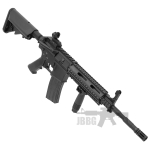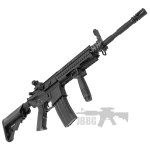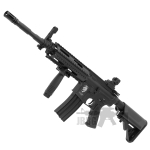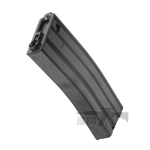 SRC M4 TCC 1712 TM EBB Airsoft Gun
€289.99
This is the NEW SR4 TTC EBB LIMITED EDITION AEG pro airsoft gun only at Just BB Guns.
EMAIL ME WHEN STOCK IS AVAILABLE
Description
Additional information
Reviews (0)
DELIVERY COSTS
Description













M4 TCC 1712 TM EBB
The SR4 TTC EBB Limited Edition AEG pro airsoft gun has a pre-installed, unique metal rail adapter system [RAS], so upgrades and add-ons can be installed easily. A tactical forward grip is also included in the package and is typically installed onto the bottom rail unit. The RAS allows this rifle to be infinitely more customizable, as flashlights, lasers, optics, and other tactical accessories literally mount in seconds. This gun is full metal and is of outstanding quality.  It has some very nice features, such as both front and rear pop-up sights. It also has great markings and a high-quality hop-up to enhance long-range shooting. This is the EBB version of this game-winning airsoft gun. For more info about EBB, please read on!
WHAT ARE EBB GUNS?
EBB is the highest standard of guns available in today's market. They are one stage above Gen3 guns. They have many upgrades including the most important gearbox, where you will find an aluminium bearing pistol head, aluminium bearing spring guide, 8mm bearing 6 pcs set, steel gear set and an ultra high torque motor. Make no mistake, the EBB system is at the very top end of airsoft today!
HANDGUARD
Unique full metal rail adapter system (RAS) to give 4 points of accessory access.
BARREL
Full metal outer barrel with a 6.05mm inner metal barrel for advanced shooting.
Full metal flash hider with 14mm CCW Thread.
RECEIVER
The receiver is full metal, providing outstanding resistance and durability.
The stylish design of the receiver with dust cover, together with a good-looking fire-mode-selector, bolt release button, gives an eye-catching outlook of the rifle.
New trigger design improves the flexibility of shooting and non-slip design increase the friction of the smooth surface.
GEARBOX
EBB highly calibrated full metal gearbox.
Aluminium Bearing Pistol Head
Aluminium Bearing Spring Guide
8mm Bearing 6 Pcs Set
Steel Gear Set
Ultra-High Torque Motor
Hop up unit allows the shooter to adjust the shooting range and the precision of your weapon.
NON-SLIP GRIP
A rough surface design can prevent slip of griping. You can grasp full control of your rifle confidently.
TACTICAL STOCK
6 position quick pull and auto-locking system provide the fastest adjustment possible.
Designed for Crain split battery pack
Small Tamiya connecter and fused unit
2 button pad for quick battery change
Full metal stock tube for increased durability.
SIGHTS
Adjustable front and rear metal pop-up sights.
MAGAZINE
SRC Hi-Cap metal magazine stores up to 300 rounds 6mm BBs.
SPECIFICATIONS
| | |
| --- | --- |
| NAME | M4 TCC 1712 |
| TYPE | RIFLE |
| SKU | GEB1712TMBK |
| MAKE | SRC |
| FPS (ESTIMATED) | 328 |
| POWER TYPE | ELECTRIC |
| HOP-UP | ADJUSTABLE |
| CONSTRUCTION | FULL METAL |
| RECOMMENDED AMMO | 0.20G |
| MAGAZINE | SRC HI-CAP METAL |
| ROUNDS | 300 |
| FIRE MODES | SAFETY/SEMI/FULL AUTO |
| BATTERY CONECTOR | SMALL TAMIYA |
| GEARBOX | EBB REINFORCED |
| SPRING GIDE | ALUMINIUM BEARING |
| PISTOL HEAD | ALUMINIUM BEARING |
| GEAR SET | STEEL SET |
| BUSHING | 8MM BEARING 6 PCS SET |
| STOCK | AJUSTABLE |
| MOTOR | ULTRA HIGH TORQUE |
| RPM | 600 |
| RATE OF FIRE | 800-900 PER MINUTE |
| LENGTH | 780-880MM |
| WEIGHT | 2995G |
| WITH BATTERY | NO |
| WITH CHARGER | NO |
HOP-UP
Hop-up devices apply backspin to the projectile reducing the air pressure on its top side. This causes the plastic pellet to fall less over a given distance than it would without the spin applied, extending the effective range of the weapon without increasing velocity. The HOP-UP on this airsoft gun is located behind the dust cover as normal, so you will need to release the dust cover using the pullback boult and then you can adjust the hop-up.
IN THE BOX
M4 TCC EBB Airsoft Gun
Metal Magazine 300 Rounds
Unblocking and Cleaning Rod
Barrel Rench
English Instruction Manual
Battery and Charger NOT included.
| | | | | |
| --- | --- | --- | --- | --- |
| COUNTRY | ZONE | DELIVERY TYPE | TIME | PRICE |
| Republic of Ireland | 0 | Standard Delivery | 1-2 Working Days | €6.00 |
| | 0 | Free Delivery | 3-4 Working Days | Orders Over €100 |
| | 0 | Buy and Collect | 30 Min After Ordering | €0.00 |
| Northern Ireland | 1 | Standard Delivery | 1-2 Working Days | €7.00 |
| UK Mainland | 1 | Priority Delivery | 3-4 Working Days | €29.00 |
| Jersey | 1 | Standard Delivery | 4-5 Working Days | €29.00 |
| Guernsey | 1 | Standard Delivery | 4-5 Working Days | €29.00 |
| Belgium | 2 | Standard Delivery | 4-5 Working Days | €15.00 |
| Netherlands | 2 | Standard Delivery | 4-5 Working Days | €15.00 |
| France | 2 | Standard Delivery | 4-5 Working Days | €15.00 |
| Luxembourg | 2 | Standard Delivery | 4-5Working Days | €15.00 |
| Germany | 2 | Standard Delivery | 4-5 Working Days | €15.00 |
| Austria | 3 | Standard Delivery | 5-6 Working Days | €18.00 |
| Denmark | 3 | Standard Delivery | 5-6 Working Days | €18.00 |
| Switzerland | 3 | Standard Delivery | 5-6 Working Days | €18.00 |
| Czech Republic | 4 | Standard Delivery | 6-7 Working Days | €20.00 |
| Hungary | 4 | Standard Delivery | 6-7 Working Days | €20.00 |
| Italy | 4 | Standard Delivery | 6-7 Working Days | €20.00 |
| Poland | 4 | Standard Delivery | 6-7 Working Days | €20.00 |
| Sweden | 4 | Standard Delivery | 6-7 Working Days | €20.00 |
| Slovenia | 4 | Standard Delivery | 6-7 Working Days | €20.00 |
| Slovakia | 4 | Standard Delivery | 6-7 Working Days | €20.00 |
| Finland | 5 | Standard Delivery | 6-7 Working Days | €28.00 |
| Spain | 5 | Standard Delivery | 6-7 Working Days | €28.00 |
| Norway | 5 | Standard Delivery | 6-7 Working Days | €28.00 |
| Portugal | 5 | Standard Delivery | 6-7 Working Days | €28.00 |
| Bulgaria | 6 | Standard Delivery | 6-7 Working Days | €34.00 |
| Estonia | 6 | Standard Delivery | 6-7 Working Days | €34.00 |
| Lithuania | 6 | Standard Delivery | 6-7 Working Days | €34.00 |
| Latvia | 6 | Standard Delivery | 6-7 Working Days | €34.00 |
| Romania | 6 | Standard Delivery | 6-7 Working Days | €34.00 |
| Cyprus | 7 | Standard Delivery | 6-7 Working Days | €100.00 |
| Greece | 7 | Standard Delivery | 6-7 Working Days | €90.00 |
| Malta | 7 | Standard Delivery | 6-7 Working Days | €84.00 |
| Turkey | 7 | Standard Delivery | 6-7 Working Days | €92.00 |
| USA | 8 | Standard Delivery | 6-7 Working Days | €66.00 |