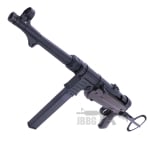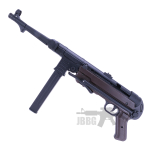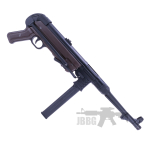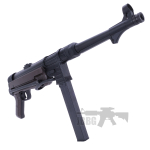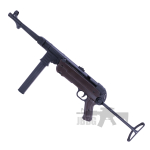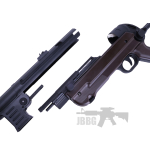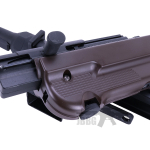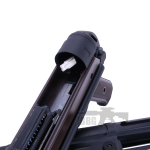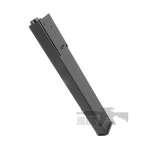 SR40 MP40 AEG Gen3 Airsoft Gun SRC
€359.99
This outstanding SR40 MP40 Gen3 AEG airsoft gun from SRC is now in stock at Just BB Guns IE.
EMAIL ME WHEN STOCK IS AVAILABLE
Description
Additional information
Reviews (0)
DELIVERY COSTS
Description

SR40 MP40 SRC GEN3 AIRSOFT GUN
This MP40 Gen3 Airsoft Gun from SRC is a replica of one of the most significant submachine guns of World War II. The MP-40 was the primary submachine gun of the German Wehrmacht from 1938 to 1945. SRC has created arguably one of the best and closest MP40 replicas out there today. This AEG has a Full metal body, stamped with german markings. It has Authentic Bakelite fore and pistol grips and like the real steel version, it has NO safety catch and is fully automatic only. Please remember to take extra care when handling this with a full mag. This weapon is a must for any German Re-enactor or gun collector.
BARREL
6.05mm inner metal barrel for advanced shooting.
Full metal flash hider and front sight.
RECEIVER
The receiver is full metal, providing a realistic overall weight without outstanding resistance and durability.
The stylish design of the receiver with a charging handle gives an eye-catching outlook of the rifle.
New trigger design improves the flexibility of shooting and non-slip design increase the friction of the smooth surface.
GEARBOX
Highly Calibrated Gen3 Gearbox.
Aluminium Bearing Piston Head
Aluminium Spring Guide
8mm Bearing Set 6 Pcs
Steel Gear Set
Ultra-High Torque Motor
Hop up unit allows the shooter to adjust the range of the shooting and the precision.
STOCK
Full metal folding stock.
SIGHTS
Fixed rear and front MP-40 sights.
MAGAZINE
SRC Mid-Cap metal MP-40 magazine stores up to 110 rounds 6mm BBs.
HOP-UP
Hop-up devices apply backspin to the projectile reducing the air pressure on its top side. This causes the plastic pellet to fall less over a given distance than it would without the spin applied, extending the effective range of the weapon without increasing velocity. The HOP-UP on this airsoft gun is located behind the charging handle, so you simply pull the charging handle backwords to gain access to the sliding hop-up dial.
BATTERY INSTALL INFO
Installing the battery is very simple but confusing the first time. The instructions are not very clear on this. So here is a step by step guide on installing the battery.
Turn the gun upside down and rest it on your lap or on a table.
Pull up and turn the upper receiver release button at the same time (this is the round flush button on the underneath of the gun).
The lower receiver will easily separate from the upper receiver and barrel.
Slide them apart and you will see the battery compartments behind the spring in the lower reviver.
Install the correct size battery and replace the upper receiver in the same way.
WHAT ARE GEN3 GUNS?
Gen3 Airsoft gun guns are designed for skirmishing. They are usually full metal and are very durable and will take a beating. Their internals are just one step away from EBB system guns so you get a lot of upgrades as standard plus the very important Gen3 SRC Gearbox that was designed for hard shooting battles. As soon as you pick up a Gen3 gun you will be impressed, everything about it shouts quality!
SPECIFICATIONS
| | |
| --- | --- |
| NAME | SR40 MP40 GEN 3 |
| TYPE | SMG |
| SKU | GE0640TMIIIBK |
| MAKE | SRC |
| FPS (ESTIMATED) | 328 |
| POWER TYPE | ELECTRIC |
| HOP-UP | ADJUSTABLE |
| CONSTRUCTION | FULL METAL |
| RECOMMENDED AMMO | 0.20G |
| MAGAZINE | MP-40 MID-CAP 110 |
| STOCK | METAL FOLDING |
| FIRE MODES | FULL AUTO ONLY |
| BATTERY CONECTOR | SMALL TAMIYA |
| GEARBOX | GEN3 |
| SPRING GUIDE | ALUMINUM |
| PISTON HEAD | ALUMINUM BEARING |
| GEAR SET | STEEL |
| BUSHING | 8MM 6 PCS |
| MOTOR | ULTRA HIGH TORQUE |
| RPM | 600 |
| WEIGHT | 3190G |
| LENGTH | 830-610MM |
| BB SPEAD LOADER | YES |
| WITH BATTERY | NO |
| WITH CHARGER | NO |
IN THE BOX
MP40 (SR40) Gen3 AEG Airsoft Gun
Magazine 110 Rounds MP-40 Mag
Unblocking and Cleaning Rod
English Instruction Manual
Battery and Charger NOT included.
| | | | | |
| --- | --- | --- | --- | --- |
| COUNTRY | ZONE | DELIVERY TYPE | TIME | PRICE |
| Republic of Ireland | 0 | Standard Delivery | 1-2 Working Days | €6.00 |
| | 0 | Free Delivery | 3-4 Working Days | Orders Over €100 |
| | 0 | Buy and Collect | 30 Min After Ordering | €0.00 |
| Northern Ireland | 1 | Standard Delivery | 1-2 Working Days | €7.00 |
| UK Mainland | 1 | Priority Delivery | 3-4 Working Days | €29.00 |
| Jersey | 1 | Standard Delivery | 4-5 Working Days | €29.00 |
| Guernsey | 1 | Standard Delivery | 4-5 Working Days | €29.00 |
| Belgium | 2 | Standard Delivery | 4-5 Working Days | €15.00 |
| Netherlands | 2 | Standard Delivery | 4-5 Working Days | €15.00 |
| France | 2 | Standard Delivery | 4-5 Working Days | €15.00 |
| Luxembourg | 2 | Standard Delivery | 4-5Working Days | €15.00 |
| Germany | 2 | Standard Delivery | 4-5 Working Days | €15.00 |
| Austria | 3 | Standard Delivery | 5-6 Working Days | €18.00 |
| Denmark | 3 | Standard Delivery | 5-6 Working Days | €18.00 |
| Switzerland | 3 | Standard Delivery | 5-6 Working Days | €18.00 |
| Czech Republic | 4 | Standard Delivery | 6-7 Working Days | €20.00 |
| Hungary | 4 | Standard Delivery | 6-7 Working Days | €20.00 |
| Italy | 4 | Standard Delivery | 6-7 Working Days | €20.00 |
| Poland | 4 | Standard Delivery | 6-7 Working Days | €20.00 |
| Sweden | 4 | Standard Delivery | 6-7 Working Days | €20.00 |
| Slovenia | 4 | Standard Delivery | 6-7 Working Days | €20.00 |
| Slovakia | 4 | Standard Delivery | 6-7 Working Days | €20.00 |
| Finland | 5 | Standard Delivery | 6-7 Working Days | €28.00 |
| Spain | 5 | Standard Delivery | 6-7 Working Days | €28.00 |
| Norway | 5 | Standard Delivery | 6-7 Working Days | €28.00 |
| Portugal | 5 | Standard Delivery | 6-7 Working Days | €28.00 |
| Bulgaria | 6 | Standard Delivery | 6-7 Working Days | €34.00 |
| Estonia | 6 | Standard Delivery | 6-7 Working Days | €34.00 |
| Lithuania | 6 | Standard Delivery | 6-7 Working Days | €34.00 |
| Latvia | 6 | Standard Delivery | 6-7 Working Days | €34.00 |
| Romania | 6 | Standard Delivery | 6-7 Working Days | €34.00 |
| Cyprus | 7 | Standard Delivery | 6-7 Working Days | €100.00 |
| Greece | 7 | Standard Delivery | 6-7 Working Days | €90.00 |
| Malta | 7 | Standard Delivery | 6-7 Working Days | €84.00 |
| Turkey | 7 | Standard Delivery | 6-7 Working Days | €92.00 |
| USA | 8 | Standard Delivery | 6-7 Working Days | €66.00 |