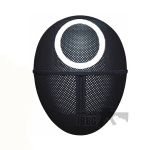 Squid Game Mask – Circle
Offer Ends In:
5
Days
08
Hours
09
Minutes
18
Seconds
Have fun with these Squid Game style masks – not recommended for airsoft unless you use goggles under the mask to protect your eyes!
Description
DELIVERY COSTS
Description
Squid Game is Netflix's Korean drama about contestants in dire financial straits who sign up to play children's games in the hopes of winning an enormous cash prize. The only problem is that if you lose a round, you are "eliminated" – killed. All of the workers wear masks, while the contestants do not.
Although Squid Game is run by a small group of elite individuals, a large group of workers was needed in order to help the games run smoothly. These workers are not part of an elite class but work for the owners of Squid Game in exchange for money. It is implied that they do not get paid that much money, because some of them try to break rules in order to get extra money.
There are three different types of worker masks, but they are all easily recognizable as worker masks.
CIRCLE
The workers with a circle on their masks are the "lowest" ranked. They are responsible for completing basic but necessary tasks on the island, such as cleaning, serving food to contestants, mopping up blood, removing corpses from the game areas, and incinerating the bodies of dead contestants. The circle workers do not even speak unless they are spoken to first by a superior.
TRIANGLE
The workers with a triangle on their mask are the second level of workers. They enforce the rules of each game, lead the group from one area to another, "eliminate" (shoot) players when they lose a game, and take care of general crowd control whenever something gets out of hand. Unlike the circle workers, the triangle workers are at least "above" the contestants, because they are able to give orders to the contestants or even kill them on the spot. In terms of class, the triangles are similar to a police officer or the manager of a chain store: they enforce certain rules, but they do not really get to make any rules and do not have enough power as an individual to really change the situation.
SQUARE
The highest level of workers are those with a square on their mask. They essentially supervise the triangles and circles, and can give orders to them. The square workers communicate directly with the Front Man to receive directions from him. Also, they can watch the video that is being recorded on the island. The square workers are above the contestants, the circle workers, and the triangle workers, but they are still ultimately workers.
IMPORTANT DISCLAIMER
These fun masks are not recommended for airsoft unless you use goggles under the mask to protect your eyes!
Please note; these masks are in the style of Squid Game and are not the official merchandise from the TV series.
| | | | | |
| --- | --- | --- | --- | --- |
| COUNTRY | ZONE | DELIVERY TYPE | TIME | PRICE |
| Republic of Ireland | 0 | Standard Delivery | 1-2 Working Days | €6.00 |
| | 0 | Free Delivery | 3-4 Working Days | Orders Over €100 |
| | 0 | Buy and Collect | 30 Min After Ordering | €0.00 |
| Northern Ireland | 1 | Standard Delivery | 1-2 Working Days | €7.00 |
| UK Mainland | 1 | Priority Delivery | 3-4 Working Days | €29.00 |
| Jersey | 1 | Standard Delivery | 4-5 Working Days | €29.00 |
| Guernsey | 1 | Standard Delivery | 4-5 Working Days | €29.00 |
| Belgium | 2 | Standard Delivery | 4-5 Working Days | €15.00 |
| Netherlands | 2 | Standard Delivery | 4-5 Working Days | €15.00 |
| France | 2 | Standard Delivery | 4-5 Working Days | €15.00 |
| Luxembourg | 2 | Standard Delivery | 4-5Working Days | €15.00 |
| Germany | 2 | Standard Delivery | 4-5 Working Days | €15.00 |
| Austria | 3 | Standard Delivery | 5-6 Working Days | €18.00 |
| Denmark | 3 | Standard Delivery | 5-6 Working Days | €18.00 |
| Switzerland | 3 | Standard Delivery | 5-6 Working Days | €18.00 |
| Czech Republic | 4 | Standard Delivery | 6-7 Working Days | €20.00 |
| Hungary | 4 | Standard Delivery | 6-7 Working Days | €20.00 |
| Italy | 4 | Standard Delivery | 6-7 Working Days | €20.00 |
| Poland | 4 | Standard Delivery | 6-7 Working Days | €20.00 |
| Sweden | 4 | Standard Delivery | 6-7 Working Days | €20.00 |
| Slovenia | 4 | Standard Delivery | 6-7 Working Days | €20.00 |
| Slovakia | 4 | Standard Delivery | 6-7 Working Days | €20.00 |
| Finland | 5 | Standard Delivery | 6-7 Working Days | €28.00 |
| Spain | 5 | Standard Delivery | 6-7 Working Days | €28.00 |
| Norway | 5 | Standard Delivery | 6-7 Working Days | €28.00 |
| Portugal | 5 | Standard Delivery | 6-7 Working Days | €28.00 |
| Bulgaria | 6 | Standard Delivery | 6-7 Working Days | €34.00 |
| Estonia | 6 | Standard Delivery | 6-7 Working Days | €34.00 |
| Lithuania | 6 | Standard Delivery | 6-7 Working Days | €34.00 |
| Latvia | 6 | Standard Delivery | 6-7 Working Days | €34.00 |
| Romania | 6 | Standard Delivery | 6-7 Working Days | €34.00 |
| Cyprus | 7 | Standard Delivery | 6-7 Working Days | €100.00 |
| Greece | 7 | Standard Delivery | 6-7 Working Days | €90.00 |
| Malta | 7 | Standard Delivery | 6-7 Working Days | €84.00 |
| Turkey | 7 | Standard Delivery | 6-7 Working Days | €92.00 |
| USA | 8 | Standard Delivery | 6-7 Working Days | €66.00 |