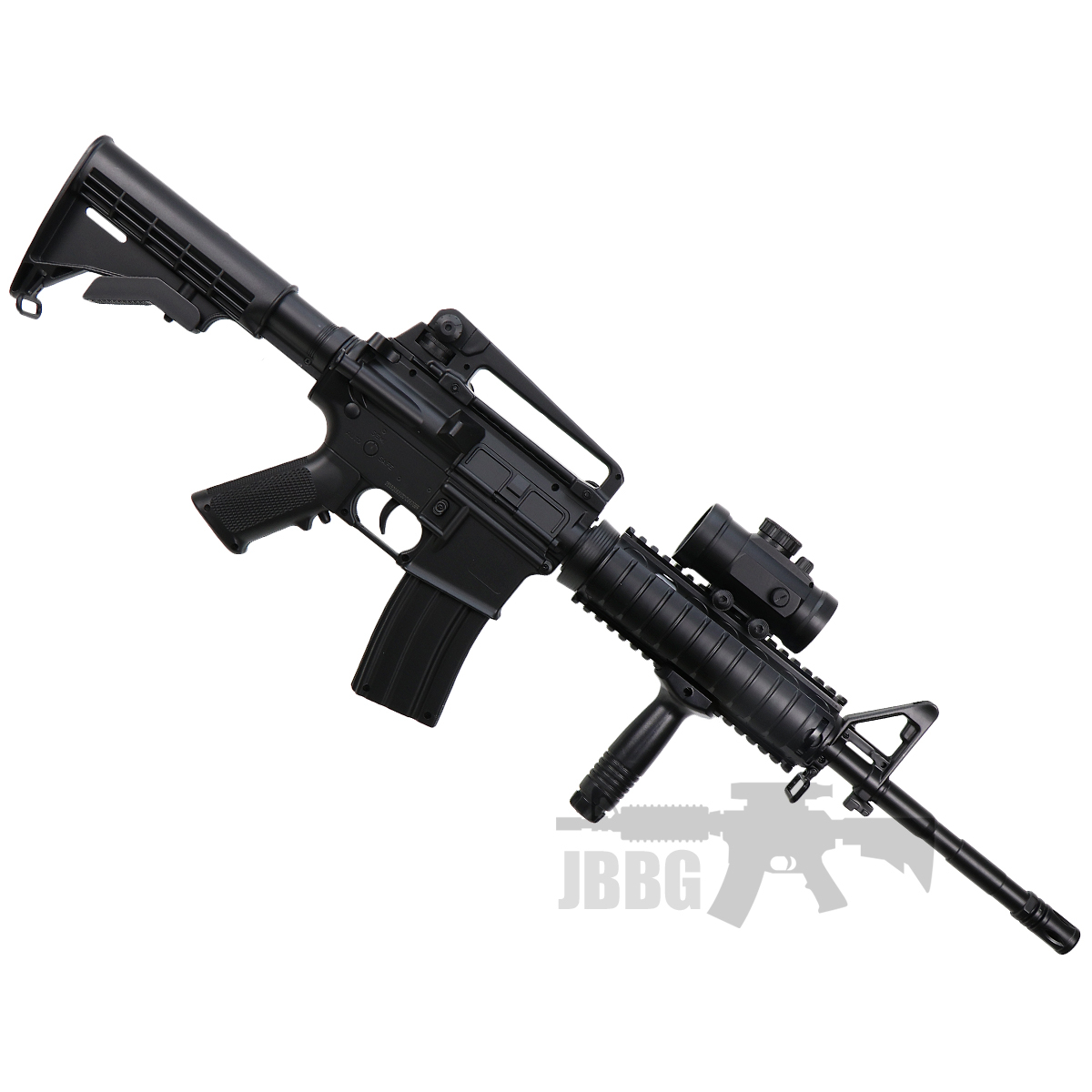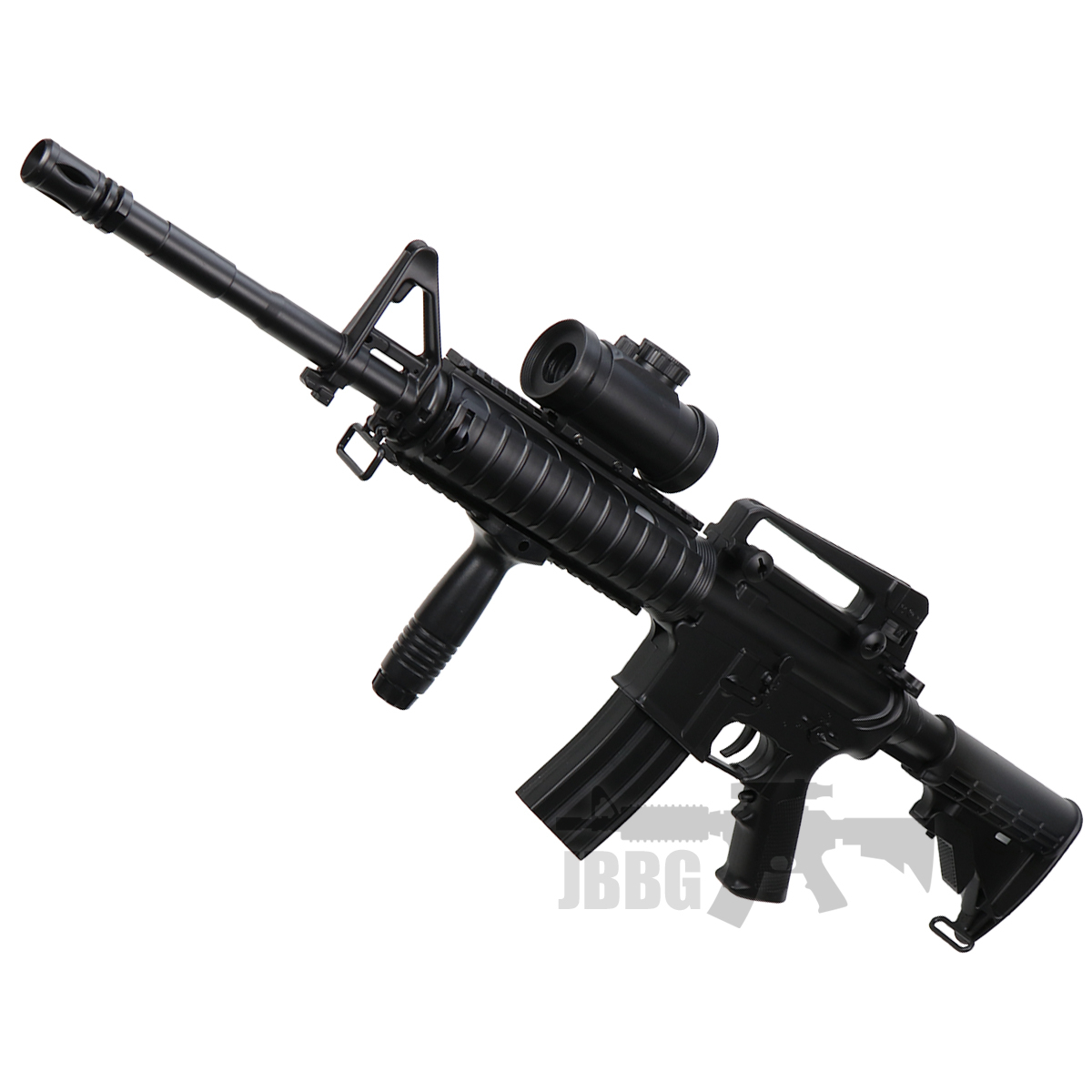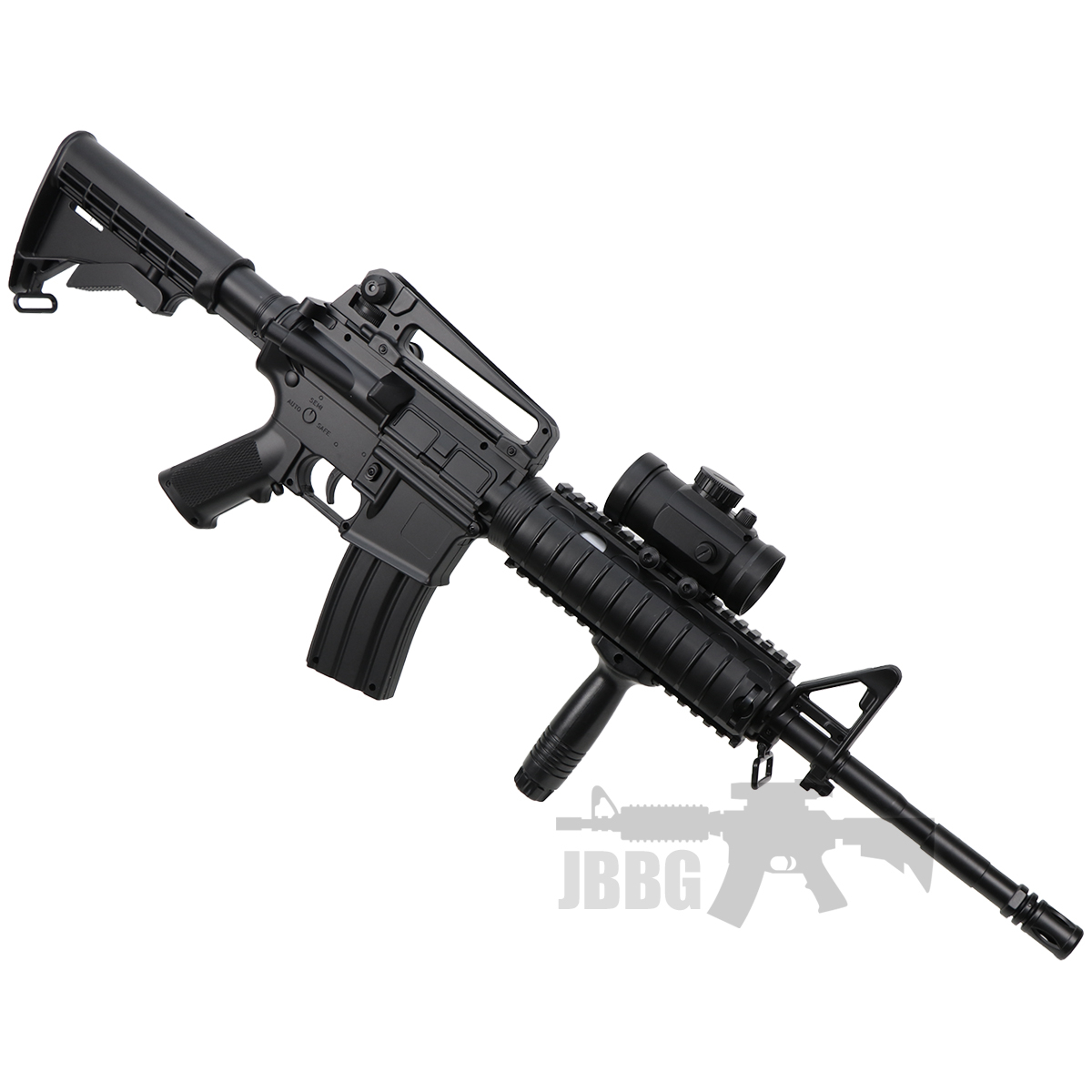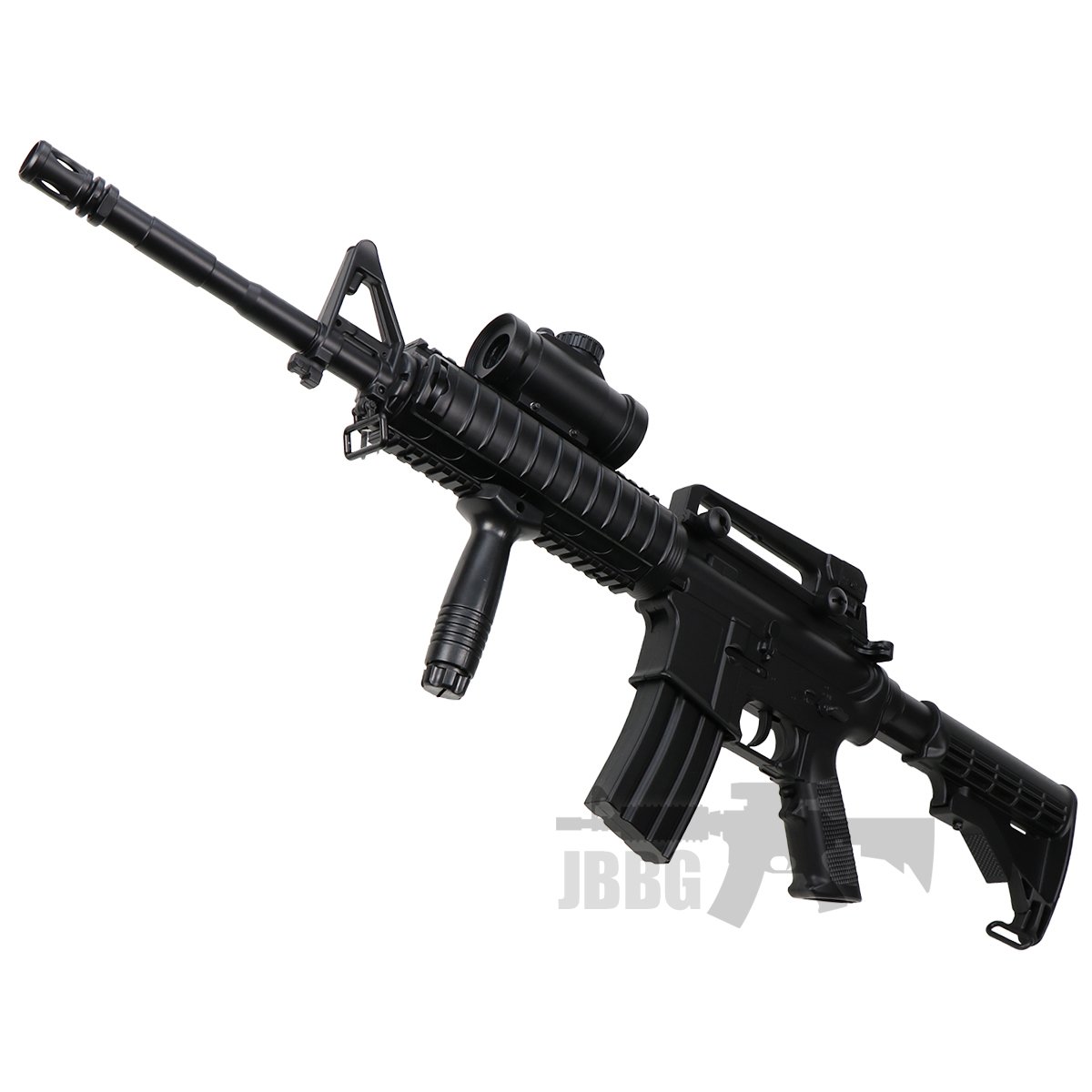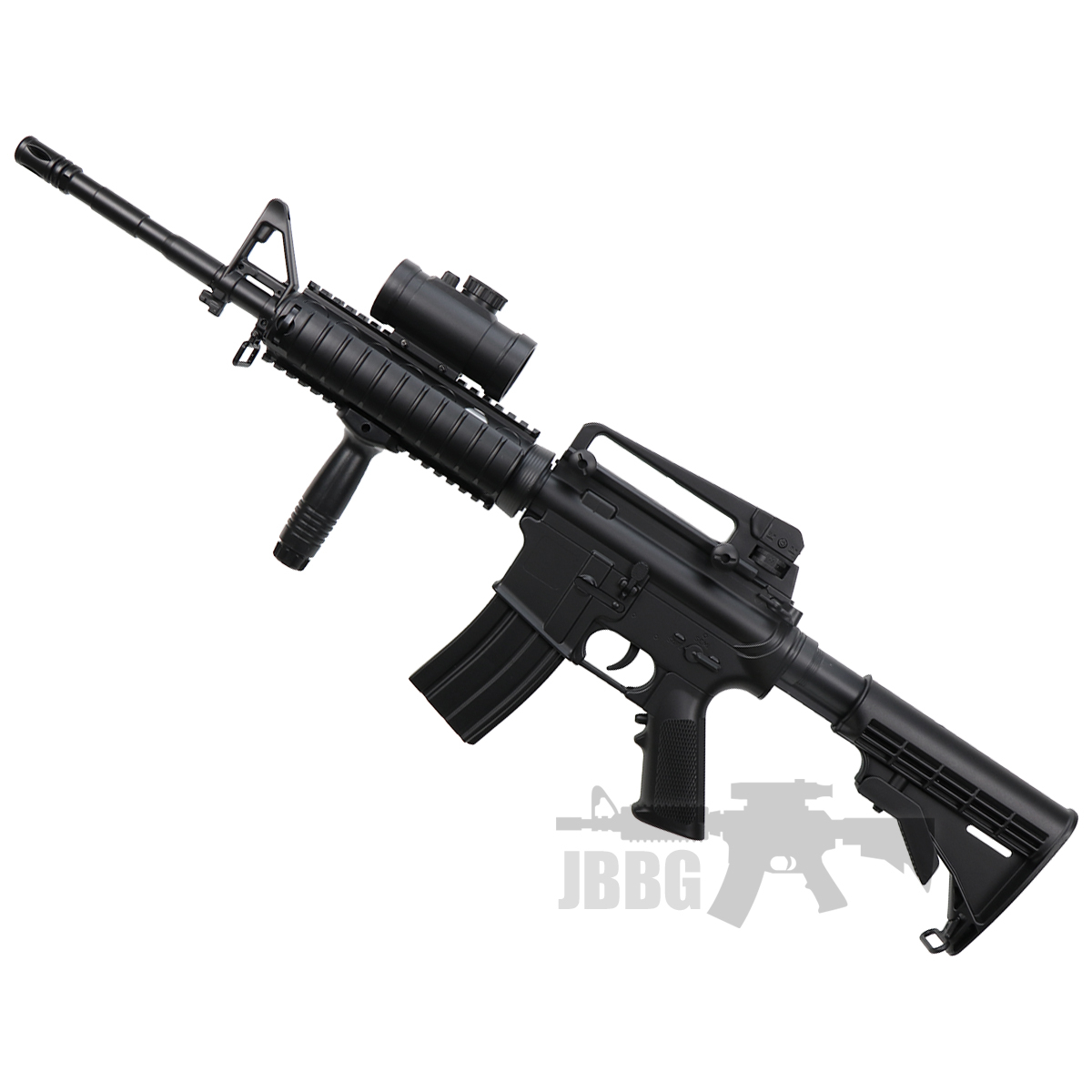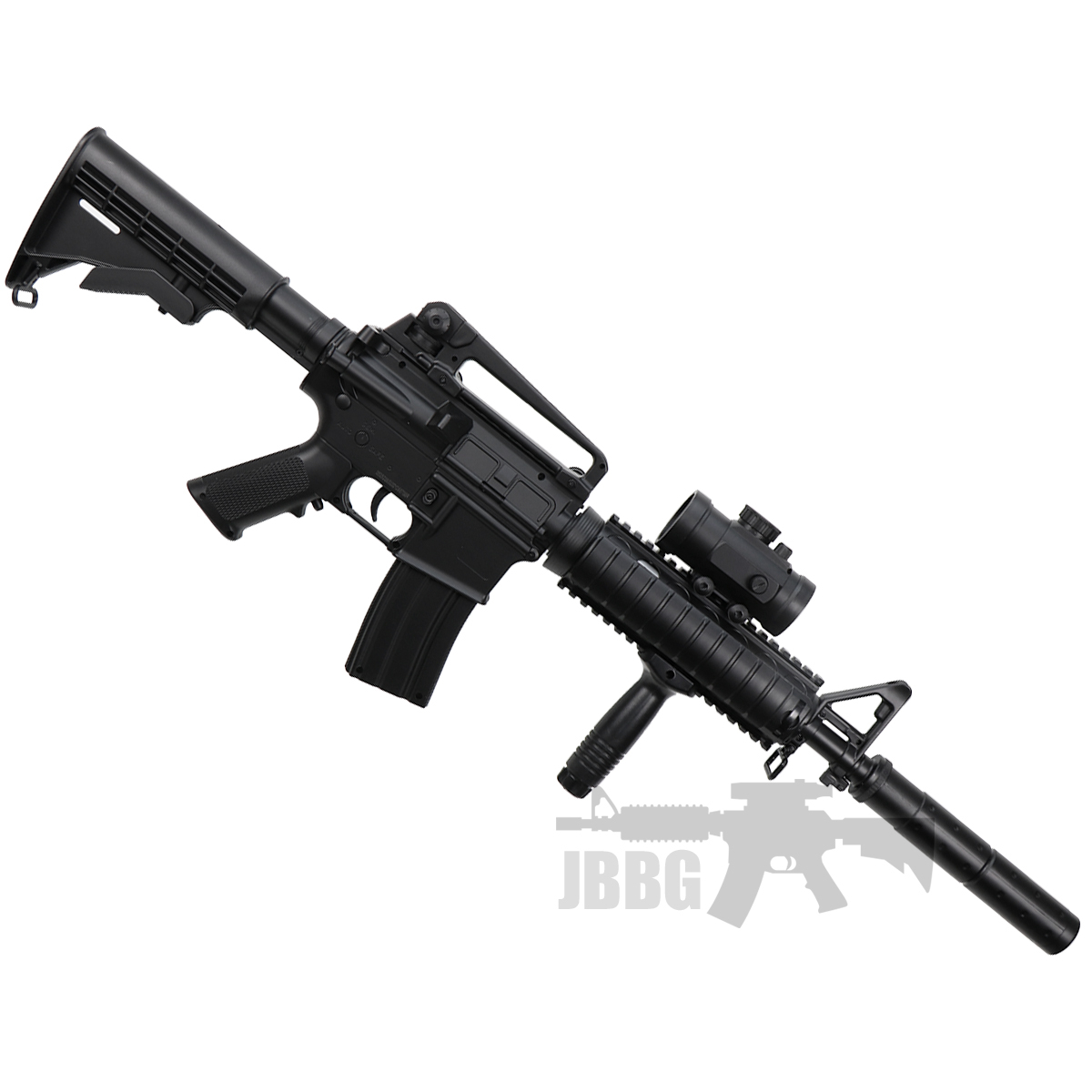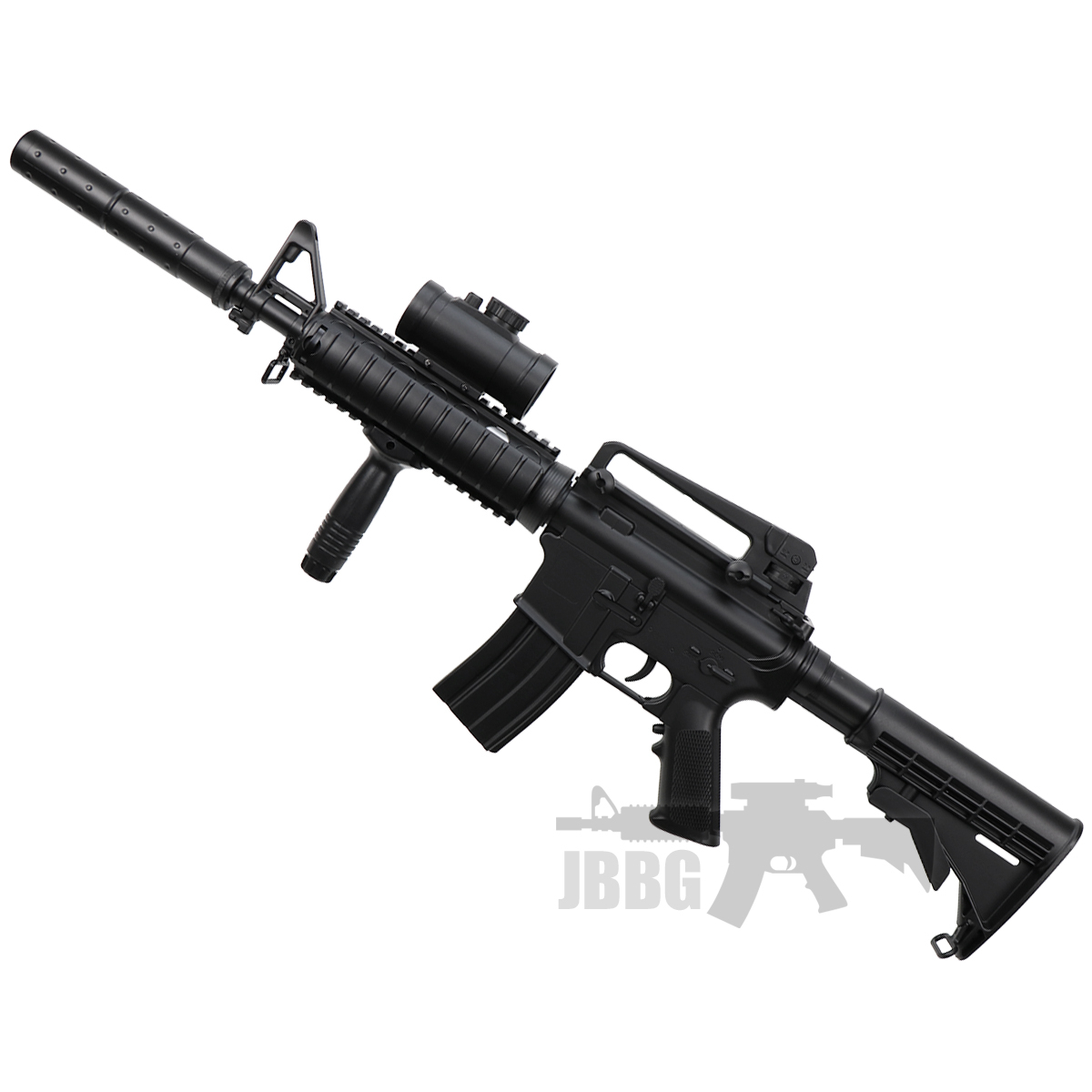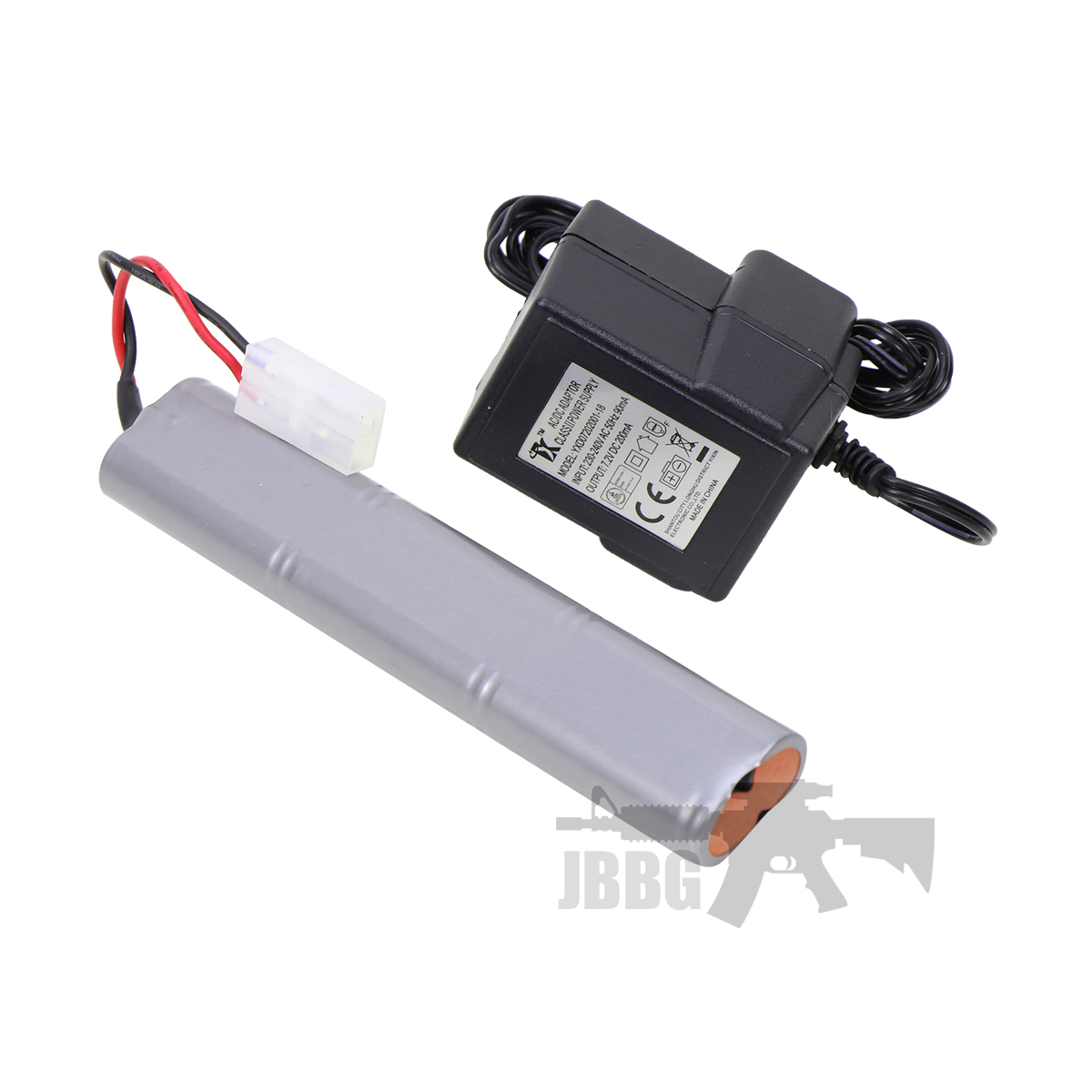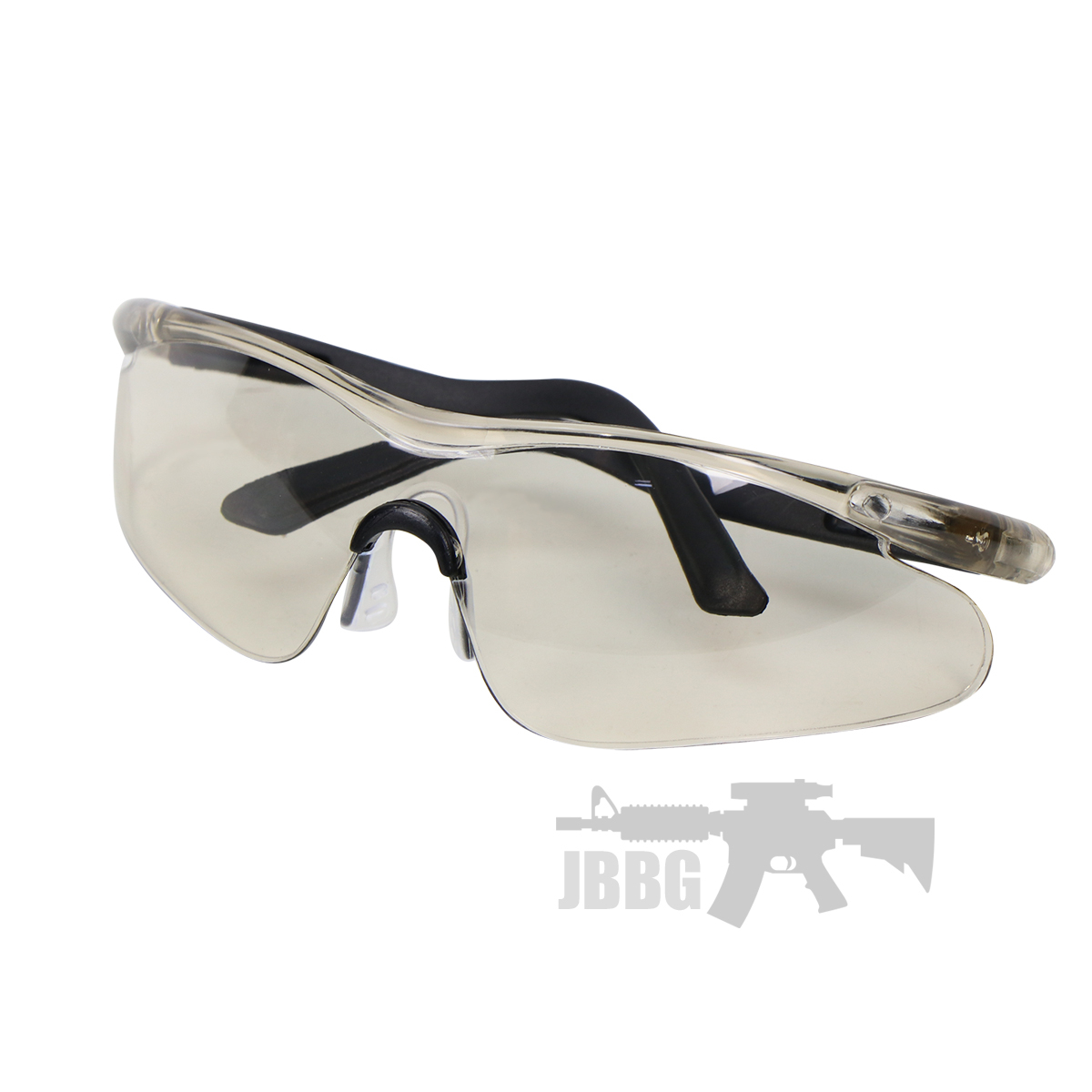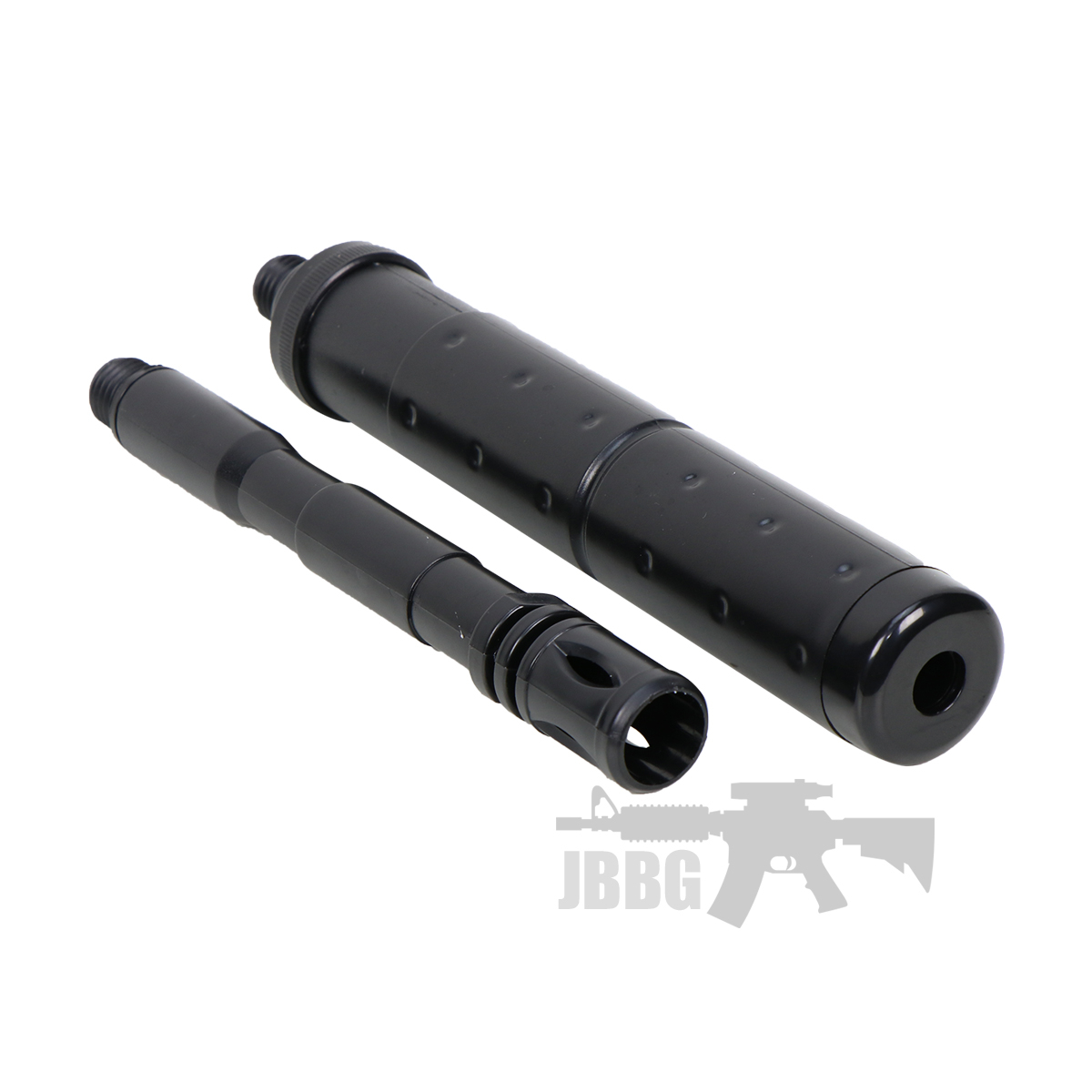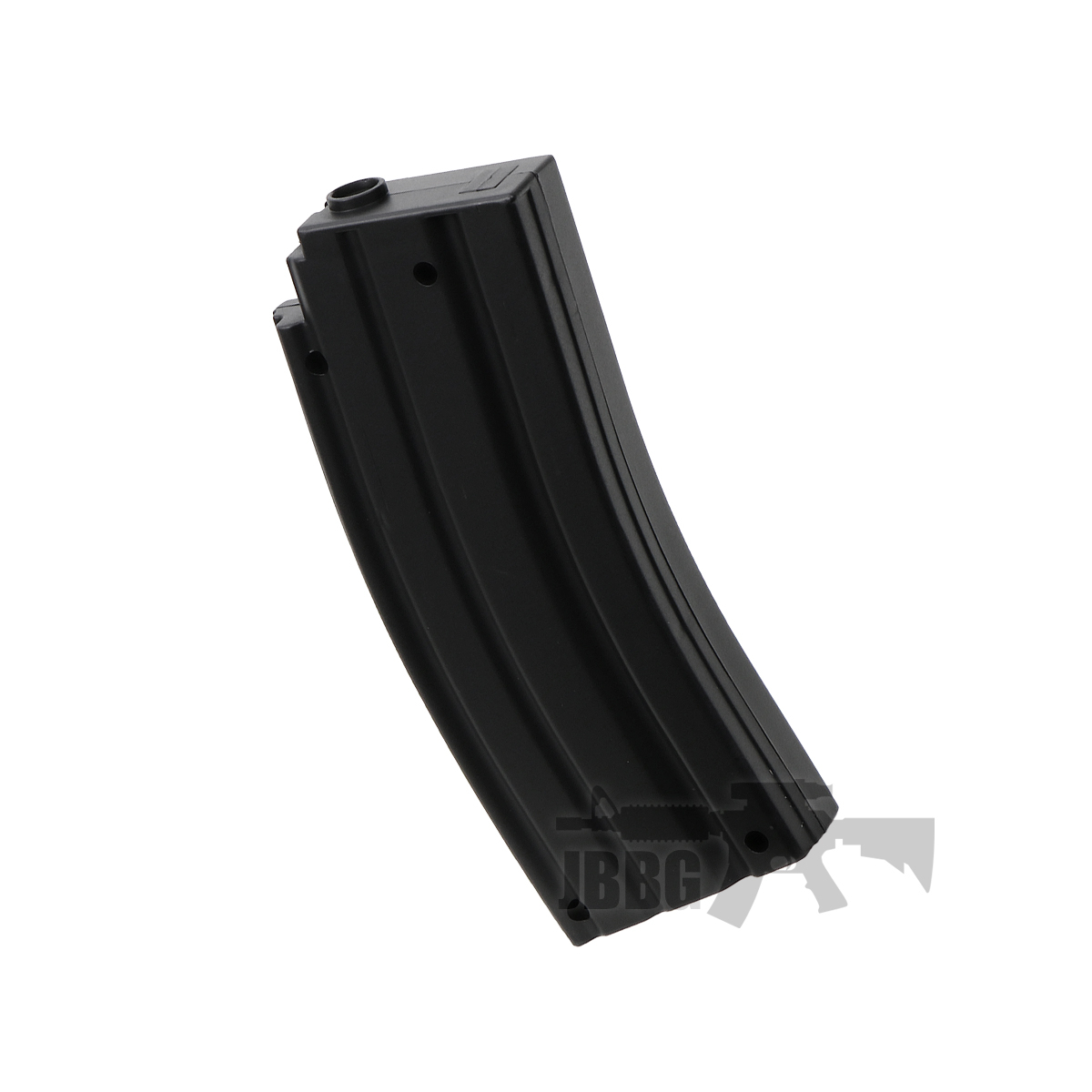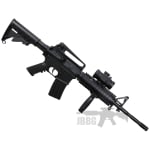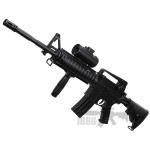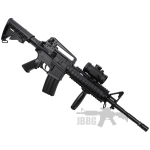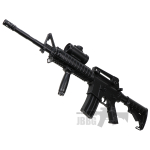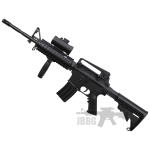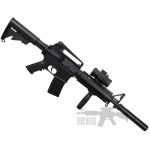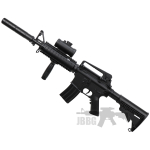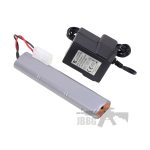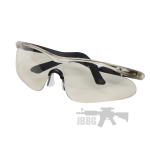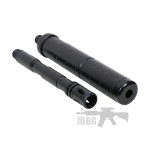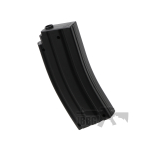 M83A1 M4 AEG Airsoft BB Gun
€79.99
This M83A1 Electric Airsoft BB Gun from Double Eagle is an affordable rifle that will provide hours of fun.
EMAIL ME WHEN STOCK IS AVAILABLE
Description
Additional information
Reviews (0)
DELIVERY COSTS
Description













DOUBLE EAGLE M83A1 ELECTRIC BB GUN
This Double Eagle M83 A1 electric semi and fully automatic airsoft BB gun is not suitable for skirmishing but a good, cheap BB gun that will supply hours of fun. It has lots of accessories as well as an adjustable tactical stock just like the more expensive airsoft guns. This rifle fires standard 6mm BB pellets at around 250 FPS and a range of around 40 meters, the magazine holds around 40 BBs. In full auto mode, this gun will fire at a good 350 rounds per min and has an adjustable Hop-up to make this gun very accurate for the price.
FEATURES
Extension Barrel
Front Rail Mounted Handle
Mock Silencer
Rechargeable Battery Pack and Mains Charger
Protective Glasses
Adjustable Hop-up
With Nicad Battery
UK Mains Charger (it takes around 2 or 3 hours to charge)
IN THE BOX
M83A1 Airsoft Electric Rifle
M4 Mid-Cap Magazine
Adjustable Stock Fitted
Removable Carrying Handle
Front Grip
Standard Barrel with Flash Hider
Silencer Barrel
Red-Dot Sight (with battery)
Gun Sling
Small Bag Tools
BB Speed loader
Unblocking Rod
Safety Glasses
Rechargeable Battery (fitted)
Budget Battery Charger
SPECIFICATIONS 
| | |
| --- | --- |
| NAME | M83A1 M4 |
| TYPE | RIFLE |
| SKU | M83A1BK |
| MAKE | DOUBLE EAGLE |
| FPS (ESTIMATED) | 250 |
| POWER TYPE | ELECTRIC |
| ROUNDS | 40 |
| HOP-UP | ADJUSTABLE |
| CONSTRUCTION | ABS & METAL |
| 1:1 SCALE | YES |
| WITH CASE | NO |
| WITH ACCESSORIES | YES |
| RECOMMENDED AMMO | 0.12G - 0.20G |
| WITH MAGAZINE | YES |
| WITH GOGGLES | YES |
| WITH BATTERY | YES |
| WITH CHARGER | YES |
| LENGTH | 840 - 940 MM |
MARKS TIPS
This is a low-cost budget airsoft BB gun that is not designed for skirmishing, but for target shooting and back garden battels. It is a great set with everything you need to start shooting out of the box, apart from a few more BB pellets, as you are going to get threw a lot! There is just one important thing you need to know about this battery-powered BB gun – the charger supplied in the box is a low-cost budget wall charger that will NOT stop charging when the battery is fully charged. So never leave the battery when charging. It will take about 2 hours to fully charge the battery, also keep checking the battery temperature and if it is getting hot then switch it off from the wall socket (a warm battery is normal and indicates that it is charging). I recommend spending a little bit more money and purchasing a low-cost smart charger from this website to protect your battery life. Spear batteries are also available from this website. Finally, I always recommend a maximum of 3-second bursts when shooting electric guns on full auto. This will prevent the gearbox from overheating and long-term damage to your gun. This is also a much more realistic shooting technique used in real-world engagements.
| | | | | |
| --- | --- | --- | --- | --- |
| COUNTRY | ZONE | DELIVERY TYPE | TIME | PRICE |
| Republic of Ireland | 0 | Standard Delivery | 1-2 Working Days | €6.00 |
| | 0 | Free Delivery | 3-4 Working Days | Orders Over €100 |
| | 0 | Buy and Collect | 30 Min After Ordering | €0.00 |
| Northern Ireland | 1 | Standard Delivery | 1-2 Working Days | €7.00 |
| UK Mainland | 1 | Priority Delivery | 3-4 Working Days | €29.00 |
| Jersey | 1 | Standard Delivery | 4-5 Working Days | €29.00 |
| Guernsey | 1 | Standard Delivery | 4-5 Working Days | €29.00 |
| Belgium | 2 | Standard Delivery | 4-5 Working Days | €15.00 |
| Netherlands | 2 | Standard Delivery | 4-5 Working Days | €15.00 |
| France | 2 | Standard Delivery | 4-5 Working Days | €15.00 |
| Luxembourg | 2 | Standard Delivery | 4-5Working Days | €15.00 |
| Germany | 2 | Standard Delivery | 4-5 Working Days | €15.00 |
| Austria | 3 | Standard Delivery | 5-6 Working Days | €18.00 |
| Denmark | 3 | Standard Delivery | 5-6 Working Days | €18.00 |
| Switzerland | 3 | Standard Delivery | 5-6 Working Days | €18.00 |
| Czech Republic | 4 | Standard Delivery | 6-7 Working Days | €20.00 |
| Hungary | 4 | Standard Delivery | 6-7 Working Days | €20.00 |
| Italy | 4 | Standard Delivery | 6-7 Working Days | €20.00 |
| Poland | 4 | Standard Delivery | 6-7 Working Days | €20.00 |
| Sweden | 4 | Standard Delivery | 6-7 Working Days | €20.00 |
| Slovenia | 4 | Standard Delivery | 6-7 Working Days | €20.00 |
| Slovakia | 4 | Standard Delivery | 6-7 Working Days | €20.00 |
| Finland | 5 | Standard Delivery | 6-7 Working Days | €28.00 |
| Spain | 5 | Standard Delivery | 6-7 Working Days | €28.00 |
| Norway | 5 | Standard Delivery | 6-7 Working Days | €28.00 |
| Portugal | 5 | Standard Delivery | 6-7 Working Days | €28.00 |
| Bulgaria | 6 | Standard Delivery | 6-7 Working Days | €34.00 |
| Estonia | 6 | Standard Delivery | 6-7 Working Days | €34.00 |
| Lithuania | 6 | Standard Delivery | 6-7 Working Days | €34.00 |
| Latvia | 6 | Standard Delivery | 6-7 Working Days | €34.00 |
| Romania | 6 | Standard Delivery | 6-7 Working Days | €34.00 |
| Cyprus | 7 | Standard Delivery | 6-7 Working Days | €100.00 |
| Greece | 7 | Standard Delivery | 6-7 Working Days | €90.00 |
| Malta | 7 | Standard Delivery | 6-7 Working Days | €84.00 |
| Turkey | 7 | Standard Delivery | 6-7 Working Days | €92.00 |
| USA | 8 | Standard Delivery | 6-7 Working Days | €66.00 |