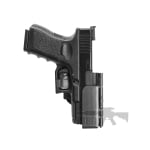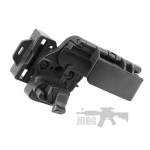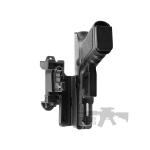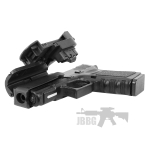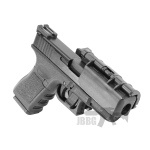 Glock 19 Owb Quick Tactical Pistol Holster Q212
€39.99
Trimex OWB Condition 3 Carry Quick Tactical Pistol Holster Q212 (Model: Glock 19 / Right Hand)
Pistol not included!
Description
DELIVERY COSTS
Description
OWB QUICK TACTICAL PISTOL HOLSTER
Condition Three – refers to magazine inserted, empty chamber, hammer uncocked. This carry method is often referred to as Israeli Carry. The idea behind this method of carry is that it is inherently the safest as you will need to manipulate the slide to chamber a round before the pistol may be discharged. The drawback of this method of carry is the amount of time it takes to ready and present the pistol.
The unique design of this holster allows the pistol to be released and have a round chambered with quick fluid motion using just one hand. To use this unique holster, the pistol retention button is pressed to release the pistol and allow the holster to swing out. The next movement is to push the pistol down into the holster itself which will cycle the slide and chamber a round. Lastly, the pistol can then be lifted out of the holster and presented for immediate use. To re-holster your pistol, simply clear your pistol to put it back into condition three; the holster is magnetized with a guide slot for your front sight for easy and quick indexing of your pistol before locking back in place.
Other key features of this holster system is its open bottom design allowing the use of any torches or lasers without modification or adjustment to the pistol or holster.
SPECIFICATIONS
Heavy-duty injection moulded polymer construction
Ultra-lightweight and comfortable to wear
Locking active retention system
Front sight guide slot and magnets assist re-indexing of slide for quick re-holstering
Spring-loaded design allows holster to quickly swing open once retention lock is disengaged for rapid access
Uniquely designed to allow for quick one-hand manipulation to chamber a round
Safely carry in condition 3 without sacrificing a speedy presentation of your pistol
Adjustable belt loop system accommodates belts of various sizes
Adjustable cant angle
Adjustable holster height
Orientation is Right Hand Draw
Compatible with Glock 19 airsoft pistols
| | | | | |
| --- | --- | --- | --- | --- |
| COUNTRY | ZONE | DELIVERY TYPE | TIME | PRICE |
| Republic of Ireland | 0 | Standard Delivery | 1-2 Working Days | €6.00 |
| | 0 | Free Delivery | 3-4 Working Days | Orders Over €100 |
| | 0 | Buy and Collect | 30 Min After Ordering | €0.00 |
| Northern Ireland | 1 | Standard Delivery | 1-2 Working Days | €7.00 |
| UK Mainland | 1 | Priority Delivery | 3-4 Working Days | €29.00 |
| Jersey | 1 | Standard Delivery | 4-5 Working Days | €29.00 |
| Guernsey | 1 | Standard Delivery | 4-5 Working Days | €29.00 |
| Belgium | 2 | Standard Delivery | 4-5 Working Days | €15.00 |
| Netherlands | 2 | Standard Delivery | 4-5 Working Days | €15.00 |
| France | 2 | Standard Delivery | 4-5 Working Days | €15.00 |
| Luxembourg | 2 | Standard Delivery | 4-5Working Days | €15.00 |
| Germany | 2 | Standard Delivery | 4-5 Working Days | €15.00 |
| Austria | 3 | Standard Delivery | 5-6 Working Days | €18.00 |
| Denmark | 3 | Standard Delivery | 5-6 Working Days | €18.00 |
| Switzerland | 3 | Standard Delivery | 5-6 Working Days | €18.00 |
| Czech Republic | 4 | Standard Delivery | 6-7 Working Days | €20.00 |
| Hungary | 4 | Standard Delivery | 6-7 Working Days | €20.00 |
| Italy | 4 | Standard Delivery | 6-7 Working Days | €20.00 |
| Poland | 4 | Standard Delivery | 6-7 Working Days | €20.00 |
| Sweden | 4 | Standard Delivery | 6-7 Working Days | €20.00 |
| Slovenia | 4 | Standard Delivery | 6-7 Working Days | €20.00 |
| Slovakia | 4 | Standard Delivery | 6-7 Working Days | €20.00 |
| Finland | 5 | Standard Delivery | 6-7 Working Days | €28.00 |
| Spain | 5 | Standard Delivery | 6-7 Working Days | €28.00 |
| Norway | 5 | Standard Delivery | 6-7 Working Days | €28.00 |
| Portugal | 5 | Standard Delivery | 6-7 Working Days | €28.00 |
| Bulgaria | 6 | Standard Delivery | 6-7 Working Days | €34.00 |
| Estonia | 6 | Standard Delivery | 6-7 Working Days | €34.00 |
| Lithuania | 6 | Standard Delivery | 6-7 Working Days | €34.00 |
| Latvia | 6 | Standard Delivery | 6-7 Working Days | €34.00 |
| Romania | 6 | Standard Delivery | 6-7 Working Days | €34.00 |
| Cyprus | 7 | Standard Delivery | 6-7 Working Days | €100.00 |
| Greece | 7 | Standard Delivery | 6-7 Working Days | €90.00 |
| Malta | 7 | Standard Delivery | 6-7 Working Days | €84.00 |
| Turkey | 7 | Standard Delivery | 6-7 Working Days | €92.00 |
| USA | 8 | Standard Delivery | 6-7 Working Days | €66.00 |