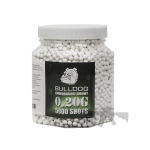 Bulldog 0.20g Bio BB 5000
€17.99
These are 5000 0.20g biodegradable white 6mm Bulldog BB Pellets…
QUANTITY

PRICE EACH

1 - 2

0%

€

17.99
3 - 4

5%

€

17.09
5 +

10%

€

16.19
Description
Additional information
Reviews (0)
DELIVERY COSTS
Description
BULLDOG 0.20G BB WHITE BIO 5K IN A REUSABLE TUB
This pack of 5000 0.20g biodegradable white 6mm Bulldog BB Pellets have been designed to optimise the performance of all Airsoft BB Guns including; Co2 Operated, Airsoft Guns with Hop Up, Shotguns, Single Shot Rifles, most good quality Entry-Level Guns and High End (AEG) Electric Rifles.


Bulldog BBs stand out from the rest, they are calibrated and have a smooth polished surface, with no ridges or imperfections.
Made with environmentally friendly materials

Designed for professional training & simulation gaming

Highest rating in accuracy, grouping, and range

Made by the #1 BB manufacturer

Precision is the most important factor for high-quality BB pellets. Bulldog BB pellets are 5.95mm + 0.01mm calibrated and have no ridges or imperfections. Designed to maximise the performance of your airsoft guns and pistols. Your favourite Bulldog BBs now come with a re-sealable sturdy tub or bag for easy transportation. Bulldog BBs, now the number one selling BB in the world and used by players and gun collectors alike.


Your airsoft gun can only be as good as its ammunition. Selecting the right BB not only makes a difference on the field but also to the internal health of your gun. Bulldog Airsoft BBs are engineered to perform at the highest level whilst also maintaining a superior level of cleanliness. Each perfect sphere is carefully polished and cleaned to a glossy finish before bottled or bagged. The result is a uniform BB, with a predictable trajectory, that will cycle consistently.

Biodegradable BBs are developed for airsoft use and are specifically designed to degrade in the natural environment and leave little to no trace over time. The BBs look the same, shoot the same but give a number of benefits. It helps the environment and lets sites operate in areas that would otherwise not allow traditional ammo. Biodegradable BBs should be used more quickly than standard BBs and should be kept dry at all times; old or damp biodegradable BBs can start to swell and may get jammed in your mag or gun.
Today, 0.20g is the most common weight for general airsoft use and it's the absolute lightest weight that you should use in your AEG guns or gas/Co2 pistols. Ensure that your gun never stops performing to the utmost of its abilities with Bulldog Airsoft BBs precision ammunition.
Bulldog Match Grade Airsoft BBs are available in standard and biodegradable.
| | | | | |
| --- | --- | --- | --- | --- |
| COUNTRY | ZONE | DELIVERY TYPE | TIME | PRICE |
| Republic of Ireland | 0 | Standard Delivery | 1-2 Working Days | €6.00 |
| | 0 | Free Delivery | 3-4 Working Days | Orders Over €100 |
| | 0 | Buy and Collect | 30 Min After Ordering | €0.00 |
| Northern Ireland | 1 | Standard Delivery | 1-2 Working Days | €7.00 |
| UK Mainland | 1 | Priority Delivery | 3-4 Working Days | €29.00 |
| Jersey | 1 | Standard Delivery | 4-5 Working Days | €29.00 |
| Guernsey | 1 | Standard Delivery | 4-5 Working Days | €29.00 |
| Belgium | 2 | Standard Delivery | 4-5 Working Days | €15.00 |
| Netherlands | 2 | Standard Delivery | 4-5 Working Days | €15.00 |
| France | 2 | Standard Delivery | 4-5 Working Days | €15.00 |
| Luxembourg | 2 | Standard Delivery | 4-5Working Days | €15.00 |
| Germany | 2 | Standard Delivery | 4-5 Working Days | €15.00 |
| Austria | 3 | Standard Delivery | 5-6 Working Days | €18.00 |
| Denmark | 3 | Standard Delivery | 5-6 Working Days | €18.00 |
| Switzerland | 3 | Standard Delivery | 5-6 Working Days | €18.00 |
| Czech Republic | 4 | Standard Delivery | 6-7 Working Days | €20.00 |
| Hungary | 4 | Standard Delivery | 6-7 Working Days | €20.00 |
| Italy | 4 | Standard Delivery | 6-7 Working Days | €20.00 |
| Poland | 4 | Standard Delivery | 6-7 Working Days | €20.00 |
| Sweden | 4 | Standard Delivery | 6-7 Working Days | €20.00 |
| Slovenia | 4 | Standard Delivery | 6-7 Working Days | €20.00 |
| Slovakia | 4 | Standard Delivery | 6-7 Working Days | €20.00 |
| Finland | 5 | Standard Delivery | 6-7 Working Days | €28.00 |
| Spain | 5 | Standard Delivery | 6-7 Working Days | €28.00 |
| Norway | 5 | Standard Delivery | 6-7 Working Days | €28.00 |
| Portugal | 5 | Standard Delivery | 6-7 Working Days | €28.00 |
| Bulgaria | 6 | Standard Delivery | 6-7 Working Days | €34.00 |
| Estonia | 6 | Standard Delivery | 6-7 Working Days | €34.00 |
| Lithuania | 6 | Standard Delivery | 6-7 Working Days | €34.00 |
| Latvia | 6 | Standard Delivery | 6-7 Working Days | €34.00 |
| Romania | 6 | Standard Delivery | 6-7 Working Days | €34.00 |
| Cyprus | 7 | Standard Delivery | 6-7 Working Days | €100.00 |
| Greece | 7 | Standard Delivery | 6-7 Working Days | €90.00 |
| Malta | 7 | Standard Delivery | 6-7 Working Days | €84.00 |
| Turkey | 7 | Standard Delivery | 6-7 Working Days | €92.00 |
| USA | 8 | Standard Delivery | 6-7 Working Days | €66.00 |